March Mania
Where do I begin to explain all of the amazing times I've had and wild adventures I've embarked on? I'll tell you about Monteverde, classes, birthdays, soccer (which they call futbol 11), futsal (known as futbol 5) and finally top it off with Puerto Viejo. The last few weeks have been absolutely crazy and have gone by so quickly so I sit here trying not only to conceptualize it all, but futher to reflect on it all.

Wow! Monteverde, it was beautiful and relaxing. The four hour trek up to Monteverde was fun, we got to meet our Spanish professor, a really cool guy, and got to enjoy the view. We arrived at the Institute of Monteverde which is this beautiful little plot of land propped way up into the mountains. Later, we met with our families, and as usual, the most kind and sincere people. My host family had three kids, a 14 year old girl, 11 year old boy and a very enthusiastic and playful 2 year old boy. From the first day I arrived, till the day I left, the 2 year old would say, vamos! vamos!, (meaning lets go!) as he played with cars or crayons or anything. Something amazing happened the second to last night I was there, I sat there as my 11 year old brother played music and I talked to him and to his sister about what I like to listen to, and for about an hour he would show me some songs and I took my ipod and hooked it up to the speakers to show them some songs and at the end of the night, I felt like we all bonded. Also, there is no way in this world that I can neglect to mention the day that I went on the canopy tour…AMAZING! For just about $30 I went on a 3 hour adventure zip-lining through the trees and swinging into the jungle. I have so many unforgettable memories from that week in Monteverde.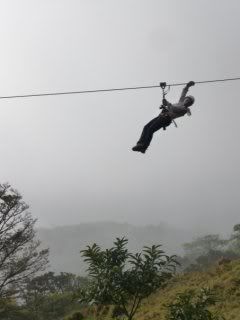 I have six classes total- two Introduction to Law courses, two Introduction to Education courses and two IFSA-Butler study abroad Costa Rica program courses. I started off my first day of classes at 7am, woke up around 6, showered, got dressed, ate and I was on the bus headed to class. I must have asked about 5 people where the Law building was but finally managed to find it about 5 minutes past 7. I sat in the classroom feeling so out of place, yet somehow, comfortable. All was well as the professor introduced herself and told us all the expectations of the class, but it came to my surprise that she asked us all to introduce ourselves, one-by-one, stating our hometown, year and why Law interested us. As I saw the people before me stand up and recite their histories, I saw my life flash before me as the realization hit me. I would be speaking publically- in Spanish! All my years of hard work in the US prepared me for moments just like this one, and if I was lucky, I would not be associated with the usual "American accent" when I spoke. As soon as I said my name and my hometown, Los Angeles, all eyes were on me. It went by so quickly and smoothly that it almost felt natural. No sweat! Thankfully, the rest of the day I did not have to introduce myself, but I thought if I did, I would be ready. After my two morning classes, I decided to show up and introduce myself to the women's soccer coach so with any luck, I could train. I did just that and trained the two hours with the team that afternoon, everyone was so nice and welcoming. The rest of the week went pretty smoothly, when Thursday rolled around and I had my Law class again, it was a little difficult at first to keep up and take notes as the profesor spoke. I felt discouraged by that so I went into the office to talk to one of the staff members, she suggested I borrow a classmate's notes and photocopy them. What a relief, I thought, I CAN do this! I just finished the 3rd week of classes and have already completed many assignments, spoken in front of the class many times and read tons and tons about all my classes. Look at me now!

March 11th was my little brother's 5th Birthday! Our family decided to throw a huge Birthday Blowout Bash for him with 60 friends and family members, right here in our very own back yard that weekend. They rented a jumper and bought a pinata for the little ones and my host mom ran around the week before running errands left and right for hours. I helped with decorations, name tags and I packed the goodie bags too! They were full of peanuts, barriletes, gummies, yogurt candies, a toy and crackers, it was so hard not to just dig in and eat the candy! I would have to say that my favorite part was the desert, a delicacy ticos call "granizados" (I call them heaven). They are made up of shaved ice with flavored syrup, powdered milk, cream and sometimes topped off with a scoop of ice cream. Mmmmmm.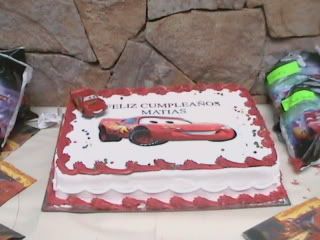 Since the first week of classes I have been training with not only the soccer team, but also the futsal team! I've been able to practice at least 3 times a week between the two teams. The girls are so friendly and happy to help me with my Spanish or my soccer. The coaches are completely understanding with me training on both teams and deciding which sessions to a attend. It all seems to click here and all though I've had my bumps along the way with Spanish words being mixed or misunderstood, I'm getting by very smoothly. I recall that the first Monday of classes and soccer training that two events helped me grasp a new expression. First, I was in the restroom between classes and bumped into a girl and said "perdon" (which is like excuse me). She replied "tranquilo," and in that moment I realized its another way of saying "its ok." Later that same day, in training, I bumped into a girl and knocked her over, I said "sorry" (which they also use in spanish). She replied "tranquilo." Thoughts raced through my head and I was not sure if that meant "its ok" or if it meant "calm down" (which is the main translation of the word). So that evening, in IFSA-Butler Spanish class, we were given an opportunity to ask questions, and in that moment the professor clarified that it was meant to be understood as "its ok," and not "calm down." What a relief!

Last weekend, a few of my friends from the program decided to organize a trip to the Caribbean coast, to Puerto Viejo for the weekend. None of the four of us had class on Fridays so we decided to take the bus out on Friday morning that way we could have more time on the beach. We got there in the afternoon and walked around for about 20 minutes until we found the perfect place to stay. Hostel Pagalu, just 5 min walk from the beach, free internet, an open kitchen, a dorm with two bunk beds and hot water in the showers. At only $9 a night, what a steal! Friday night we ate out at this cute little sea side restaurant and went wandering around until we found this nice open air place with live reggae music and delicious appetizers. Saturday was pretty low-key, it sprinkled a bit so we stayed in the hostel most of the day and decided to have some pizza for lunch and cook our own dinner. After lunch we went to the supermarket and bought our dinner for about 3 bucks a person-grilled hotdogs with onions and peppers and homemade guacamole with chips. It was so delicious, I can still taste the guacamole! Sunday morning my friend and I decided to rent snorkeling gear for the day at only about 1.25! We all walked out to the beach, laid down our towels and I went over to the reef to explore. I only had to go into the water about 20 feet before I saw a colorful array of fish and sea creatures near the reef. I even saw a jelly fish!
My family is so amazing, my mom cooks delicious food, my dad loves to watch soccer games and can talk about soccer for days and my little brother is absolutely the cutest and sweetest little boy I've known. Everytime I would surprise him with a piece of my candy, he would somehow always have a piece of his candy to treat me with. I remember him telling me to close my eyes and when I opened them I had a sweet gram cracker with four little marshmellows and coconut sprinkled on top in my hand. Since then, I've been looking for those crackers in the supermarket because it was just about the perfect combination of coconut, marshmellows and cracker imaginable. All in all, I have had an amazing time since I've come to study abroad in Costa Rica here and somehow it all feels so normal and so right. I feel as if I've lived here before (although thats definitely not the case!). I feel like I could definitely live here one day, in this beautiful country, with these beautiful people. There is nothing like PURA VIDA!
Tags: College Study Abroad, futsal, IFSA-Butler, Monteverde, Puerto Viejo, soccer