At the beginning of April this year, a huge religious festival took place, Semana Santa or Holy Week. Its full of parades, masses, pastries and most of all travelling. Everything closes their doors for the last few days of the week and people are encouraged to make their ways to the famous beaches of Costa Rica. People travel from all over the world to relax, surf and go out at the beaches in Tamarindo. I went with a group of three others from IFSA-Butler Costa Rica study abroad program and we headed out Friday afternoon for the six hour trip to Guanacaste. The trip was not nearly as bad as it sounds, the six hours go by in a flash when everything you see on the road is new and exotic.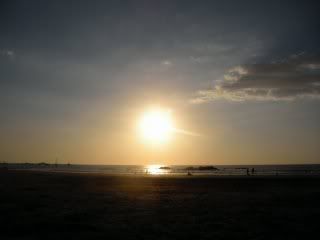 We had reservations at a charming little hostel named La Botella de Leche, five minute walk from the beach. There were tables and hammocks that opened up into a mini courtyard, an internet station with two computers, a shared kitchen for cooking and a t.v. with cable and tons of seating around it.
As soon as we arrived and dropped all of our stuff of, it was just after sunset, so we walked to the beach to feel the sand and water between our toes. The water had to be the absolutely perfect temperature, I could just imagine what the next day would be like. We headed back towards the hostel and stopped at the Super Compro to pick up something for dinner. We ended up deciding on spaghetti and managed to buy it and breakfast necesities for all of us for just about 5 bucks each. What a deal! The next morning we woke up around 9 and fixed breakfast before heading out to the beach. When we got to the beach, the sun was blazing hot and its almost as if you could feel your skin frying! We were out at the beach from about 11 to 2 and then made our way back for lunch and to relax. As soon as I stepped in for a shower, I realized that I was head to toe burnt. It was a fiery red and I was scared for how it would feel the next day.
When I woke up Sunday I relaxed for the first half of the day and decided not to go out to the beach until around 4 when the sun was setting. That turned out to be the perfect time of the day to go for beach soccer. I saw a group of ticos playing some pick up soccer on the beach with sticks for goals and I went over and invited myself into the game. I ended up playing an hour and a half and had so much fun. They played me the ball and looked for me just about everytime. Every other time I saw any of those guys playing soccer on the beach or selling beach chairs and umbrellas, I had some friends to talk to!

Who would have thought that just after about three days of heading to the beach around 3 or 4, that all that burn of mine, would bronze out into a beautifully even tan? I know that I was sure surprised! So I had been really excited about going to Tamarindo because its a surf town and there are tons of places to rent boards and I was dying to try and learn to surf. It took me about four days to muster up the courage to rent a board and go out there, do or die! I needed the first two days to relax and soak up the sun, then another two to scope out the waves and the surf scene. Wednesday rolled around and I rented a board with one of my IFSA-Butler Study in Costa Rica program friends, only 10 bucks the whole day, split between the two of us. Once I get excited about something like surfing, Im completely captivated and engulfed in it. That first day I spent about 4 hours in the water, 3 from when that board first hit the water and then another after lunch! I tried and tried and tried until I finally started to get it at the end of the 3rd hour, so after lunch, I was ready to get back on that board and stay on! The last hour was amazing and it actually gave me hope for picking up surfing as a hobby in the future. Thursday and Friday I rented boards from two different places, looking for the best price and the complete deal. After a few hours on the board and no rash guard, you learn the hard way what those cool looking, fitted shirts are for.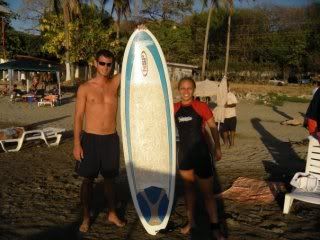 All in all, I had an amazing time. If it weren't for the 6 hour bus ride, I would be out there every weekend or every other weekend. Beautiful beach, amazing surf, soccer on the beach and hot, blazing, frying sun- what more could I ask for?