Right in the midst of all the craziness of tons of Costa Rica study abroad program projects, assignments, and exams, my mom and grandma come to visit- a nice break from it all. What my mom's main objective was, aside from seeing me, was to go zip-lining. She had heard I had an amazing time when I went in Monteverde, she had seen pictures and made up her mind. So I get up early June 2nd to take a bus to San Jose, then another to the airport in Alajuela. Some of the thoughts passing through my head were…Wow, I'm really going to see them…They are actually coming to visit me while I'm studying in Costa Rica! So after an hour or so of waiting till their flight was due in, I caught myself standing up in front of the glass window with my face pushed up against the glass, hoping to catch a glimpse of them before they caught a glimpse of me! As soon as I saw my mom and grandma walk into the area with the glass window, my heart jumped up, I couldn't believe it, they were actually HERE!
We decided we would stay in San Jose Tuesday to Thursday, then Friday we would head to Manuel Antonio for the weekend- the land with beautiful beaches, a flourishing national park and zip-lining, the perfect combination. Tuesday after the flight and the drive back to this cute little pension we stayed in, my mom and grandma were pretty much beat. Tuesday, my mom and I wandered around San Jose a bit and ate inside the Mercado Central at the end of the pedestrian boulevard. Wednesday was a very big day, we had planned to walk around San Jose, see a short tour of the University of Costa Rica, see the Evolution Boxing Gym, meet up with my Tico family to have some snacks and coffee and finally, go to the US vs Costa Rica World Cup Qualifier at 8 p.m… So we ended up doing it all and when we went to visit my host family, my host brother was so excited he couldn't stop running around, he may have been just as excited to see them as I was! That day, he was even cuter than usual, if that's even possible! We had coffee, empanadas, and tamal asado- all traditional dishes prepared by my host mom's sister. It was delicious, my grandma, mom and I couldn't stop eating!


Afterwards, we stopped by the pension to relax and get grandma comfortable because my mom and I were headed to the game! Waves of red and blue everywhere, not for the US of course but I was there, wandering around in my red and white USA jersey. The stadium was absolutely crazy, after walking up and down rows and isles; we finally managed to find seats in the middle of it all, in the sea of red and blue. Although I obviously wasn't playing, I could feel the energy brought on by the Costa Rican crowd, and I was intimidated! It was so loud I could hardly hear myself think and the stands shook so much that my mom and I couldn't help but make jokes to deflect our hidden preoccupations about the stands holding up. I found myself saying things like "They have got to have had games that were more rowdy, like when Mexico would play here or something…" As soon as the National Anthem started playing for the US and I thought I would be the only one singing it, I noticed there was a good solid fan base of about 50 people on the other side of the stadium wearing all white for the US, much good that was doing me! The whistle blew and from that moment on, I think I tried to block from my memory to protect myself, one goal after another and it was 3-0 in a flash. Despite the fact that the US put in a PK in extra time, I felt disappointed and embarrassed for the team, lucky for me, I brought a shirt underneath my jersey…Only kidding, its just one loss! So we headed back to find lil ol' grandma waiting up for us, having watched the game with the owner of the pension!
Thursday we took the official tour of the National Theatre which was absolutely amazing, the amount of detail and time they put into its construction is astonishing. We ate some "casados," or traditional Costa Rican plates and then relaxed in the pension because the next day we were off to the beach!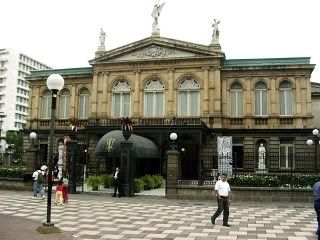 Friday morning we got up, got ready, had breakfast and were out in a flash. The tickets to and from the beach were only about $14 total for each of us, to experience a tropical, white sand, clear water beach! After what seemed like a short 3 hours, we were there, so we hopped off the bus and found this neat little trail that lead us to our cute hotel. We had a little room with a little t.v. and a little kitchen and a little balcony, it was just perfect for my grandma, my mom and I, three little ladies! We relaxed and walked around the beach area that was sprinkled with splashes of red, green, orange, blue, yellow and white towels, hats, wraps, hand-made boxes, shirts, souvenirs etc. We found a BBQ place by the beach and got some "casados" with chicken and ribs and spilt them between the three of us. We stayed in and watched soccer and basketball as a nice ending touch to the day.
Saturday morning we woke up really early and got an early start to the Manuel Antonio National Park. As we walked through the jungle trails, it was amazing the wildlife we ran into. We saw a deer trotting alongside us, a toucan amongst the lush trees, bats hidden under shrubs, monkeys, monkeys, monkeys all over. We saw groups of howling monkeys, white-faced monkeys and titi monkeys all over the trails. I kept saying, "I hope I see a sloth, I want to see a sloth, I'm looking for a sloth…" as I scanned the trees while walking. It was nearly impossible to do all the multitasking I wanted to do. I wanted to look up and around as I walked forward and kept an eye on my mom and grandma, but since the road was a little bumpy, I found myself looking up, pausing, checking on my family and then continuing on. Some parts of the trail were more treacherous than others but when we arrived at Playa Manuel Antonio, it was more than worth the walk. It was this amazing little paradise with bright blue waters flushing through this opening in the mountains and jungle. We were literally where the ocean meets the deep jungle and it was absolutely amazing. It was like a scene straight out of Lost; only we weren't trapped there on an island, although we may have wished we were! As we sat under this beach tree that was neatly shaped almost horizontal to the water like a bench, we noticed that a few people had collected under the tree next to us and were pointing up into the branches at something. It was a sloth- the most beautiful, ugly sloth I had ever seen, actually the only sloth I had ever seen. I saw the sloth I was looking for, it was kind of funny because I just kept pointing out the fact that in the hour and a half we were there, it didn't move at all! The more and more time I spent here, the more I realized the country's motto, "Pura Vida," even the animals lived by the motto!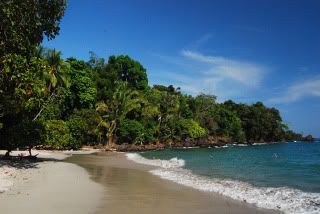 Sunday morning we woke up and my mom was charged up, nothing could stop her now. The canopy tour was today and we decided to go with "Selvatica" which included transportation to and from the site in nearby Quepos, 2 to 2 and a half hours of zip-lining, lunch and snacks and a finale ending with a dip in the crisp waters at the waterfall near the site! My grandma came along for the ride to hang out in the beautiful forest cabin where lunch would be served. My mom and I suited up and we were off! She was so excited and kept telling me, "I wish I had done this EVERYDAY!" She was smiling from ear to ear, like a kid in a candy shop, the whole time as we zipped from line to line and tree-top to tree-top. Nothing gave me more inner-peace and happiness than to see my mom doing this wildly extreme canopy and loving every minute of it. Each and every day that went by I found myself realizing how quickly time was going by.


Next thing I know it was Monday morning and we were on the bus home. After the trip home and a last day in San Jose with my mom and grandma, it was time for them to go. I could tell that the two of them wanted so badly just to stay here the rest of the semester with me, at least until then! My mom wanted to go backpacking around the country and my grandma wanted to go on a canopy tour. If there is one thing that tells me, not only did they have a great time out here with me, but also that we have to make our way back out here as a trio, as three generations of Johnson-Dixon women, on a Costa Rican adventure!